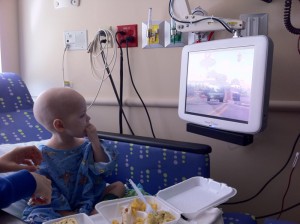 It's been an emotional few days.
Yesterday we got news (finally) that we were approved for 24 hour home nursing care for Charley for 60 days. Which is AWESOME – Ezra has so many appointments and it's so incredibly difficult to be both a parent and a nurse to both of these kids at the same time on top of handling the emotional load – we really need the extra set of trained hands around the house. Some of our friends have been around helping and we're so grateful. I haven't done much work at all the past week trying to help Robyn out, and she's pretty much at wit's end trying to carry around the whole of Charley and his wagon full of medical equipment and pay attention to a clingy Ezra as well. Leaving the house is still very difficult strapping all the equipment in and watching both kids.
Our first nurse got to the house today at 7 and is watching Charley all night – so I have time to write to you while Robyn eats her 1st actual meal of the day.
Ezra has been very clingy and seemed uncomfortable the past 7-10 days, so we've been anxiously awaiting these scans. He had scans today (a CT and the injection of a contrast for his MIBG scan tomorrow) and has one more tomorrow (the MIBG scan). The results are not good. We haven't got the results of the MIBG scan obviously since it's tomorrow, but the CT results are back and bad. The tumor on his face has grown larger than when we started chemo last round (Sept 8th), and has progressed toward his brain. There is also a new lesion (read: cancerous mass) near the back of his head. His abdomen has many new tumors which are all growing and were not there when he started chemo. His counts are not staying recovered as they should be by now, showing his bone marrow is still involved and the cancer is not dying there.
Essentially, while it initially looked like he had a positive reaction to the chemo, it turns out to be extremely short lived, to the point his cancer is termed non-responsive to this chemo.
This means there are only a few drugs left to try, and all of them are less aggressive than the one we just tried.
Dr Nieder has recommended we try a trial using a drug called Nifurtimox (http://www.nmtrc.org/phase-ii-nifurtimox/) which is showing extremely promising results with neuroblastoma and is being run in Orlando (and a few other hospitals across the country). We will be mailing all our scan results to NY as well as Orlando tomorrow (and we've already been on the phone with them) to get both of their expert opinions, but it looks like this may be our next step. There have been multiple patients who tried this and have been living over two years on it before relapsing. Remember, after the relapse Ezra was given 5-7 years of "prolonged life" IF and ONLY IF we got a response to this chemo – which we did NOT it turns out. Nifurtimox has been around for decades, but mostly used in Central and South America to treat parasitic infection. A young girl in the US a few years back happened to have neuroblastoma and got a parasite, and also happened to be treated with Nifurtimox. Her tumors went down considerably, and thus this study was born. It's been doing very well in 70-80% of it's recipients.
We had a long conversation with a few doctors today, and we are really putting our hope in this trial in Orlando, perhaps something crazy from NY we haven't heard of yet, or God doing a miracle (never out of the question). When it comes down to it, his cancer is EXTREMELY aggressive, and is growing even DURING chemo now. The incredibly hard and painful truth is if the trial is not effective and the cancer continues, Ezra most likely only has 2-3 months of life left.
Please keep praying.