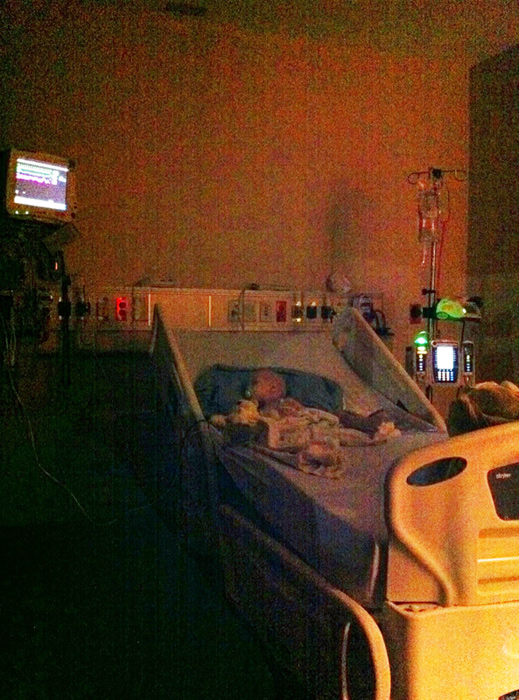 So I've had quite a few of you emailing, Facebooking, texting, appearing, calling, IM'ing, Skyping, commenting… reaching out to us today. A lot has happened and a lot hasn't happened, and another update is due to share with everyone where we're at so far.
Ezra was pulled off the Nifurtimox trial this afternoon before even getting to start it. The trial is being conducted by a hospital in Virginia (the University of Vermont's Vermont Cancer Center – http://vermontcancer.org/index.php?id=232), and after they heard about the past few days' events, they are no longer qualifying him for the trial. They feel he's "deteriorating too fast" and can't justify treatment or something. Contact them here if you have a beef. 😉 http://vermontcancer.org/index.php?id=6 I was able to ge in touch with Dr Sholler over there and she has been very helpful in working with me to try and get this drug through the company who makes it. We're trying.
This morning Ezra was extremely tired but still would open his eyes and look at you whenever you spoke his name or made a loud noise. By afternoon, he was no longer responding to those things. He still will open his eyes briefly and talk for a few words every once in a while, but he is mostly out of it. He was making whimpering/grunting noises toward the afternoon today, and his oxygen is still low – so they did a chest xray and ultrasound. They were worried he was bleeding into his abdomen, which he doesn't seem to be. They did see, however, a lot of fluid buildup in his abdomen, and fluid is now in his right lung as well. This is most likely from tumors blocking the body's normal fluid escape areas. We are watching this closely. His breathing is also much more rapid because of the fluid buildup. He can't really have this drained or operated on, because his platelets aren't holding at all – meaning there is a very extreme risk of bleeding out if he got a surgical procedure.
I feel like this is happening way too fast.
The drs are still fairly sure this is Ezra's body shutting down. We have started the chemo already either way, and are still planning on treating as scheduled, minus the trial drug (which I hear may be available over the counter in Germany, Argentina, and possibly Mexico… which is a crazy thought for his 30 days of 3x daily 100mg tablets he'd be getting on this trial). They've even gone so far as to bring up Do Not Resuscitate orders. At the moment, we have not signed these, as I feel his condition is still much in the vein of having a solid fight in him. I'm not interested in your opinion on DNR papers, so please don't offer them. 😉 Given Ezra's current condition, we are doing everything possible to try and beat this cancer still – or at least give him a few more good months. If God is calling him home… well that sucks and we'll address that when we feel it needs to be addressed. That time is not now.
The room is dark right now, it's 11:30 pm and my eyes are so dry they're hard to keep open. All the lights are off but the room stays well lit from monitors. The silence is loud from the filtered air, pumps, and equipment. Ezra is making little noises while he rests. I do not feel strong. I am replaying in my head dozens of moments he and Robyn and I have shared laughing and playing. I fight with my hope, my doubt, my faith, and my sense of a cosmic unfairness in this. One minute the knowledge if Ezra passes he will do so directly into God's loving arms brings great hope to me; the next minute it seems trite rhetoric. I keep thinking I just need more time with him.
I am praying. I am praying with everything I have. If desire and Godly petition alone can change the outcome of a person's life, Ezra will no doubt be healed. There are literally thousands and thousands of people praying for him, joining us in crying out for Ezra's healing, and believing on God for a miracle.
At the end of the day… this just sucks.