Ezra is more stable now than he was earlier in the week, but we're still not sure what that really means. His oxygen has remained at the same level for a few days now, and earlier in the week it was having to be upped daily, so that's good. The doctors say there is now more fluid in each lung as well as in the abdominal cavity. The chemo is definitely working, but the problem remains – how much? The neuroblastoma is all over – one of the most aggressive the drs have seen. There is a lot of uric acid in his urine, which shows the tumors are being broken down, but there's no way to tell how much or where.
He is still not talking or opening his eyes, but his heart rate is lower and oxygen is good. There is a lot of swelling from fluid retention. The eye where the tumor is next to is having a pretty rough time – he pretty much can't open it at all, and when he does you can see it is not doing very well. It sucks to see it, I'll tell you that.
Neuroblastoma is a beast, and it's frustrating as hell. We will definitely be dedicating time and money into doing all we can to ensure other families don't have to continue going through this as time goes on.
Re: Nifurtimox, I believe we should have some by Monday if not today. It's been crazy to see everyone mobilizing to get this stuff to us, and I think we're close now. I don't know how much it will be able to do. We are still praying for a miracle.
Tonight will be the last day of chemo. Basically, the plan after this is to wait and see if the cancer was killed enough to allow his body to recover. We are nervous, since the last round of chemo worked pretty well – but within 2 weeks the cancer had returned. At this point his cancer is much heavier than it was before, so we need a miracle. Thank you again to the thousands and thousands of people who have been praying, sharing our site, and sending in thoughts, donations, etc… so much!
I hate to have folks seeing him sick like this – he's such a happy kid with an incredible personality. Here's a picture from less than 2 weeks ago of him playing with Robyn… I miss his smile. The kid is hilarious. I added a few videos of him as well (look to the right on this page, there's a video gallery link) so you can see his personality.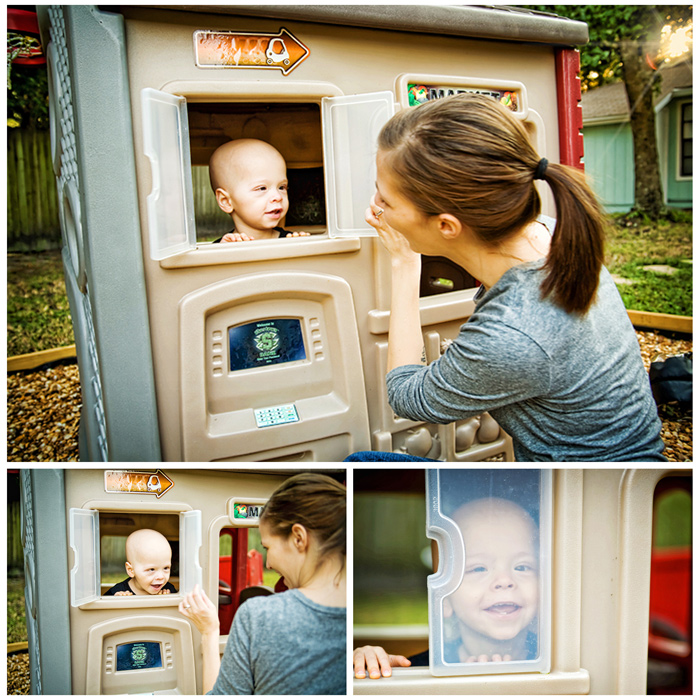 Hey – Charley is doing great! He's at home in Tampa, and we've had around the clock nursing combined with a parade of our friends standing in to make sure he's being well taken care of. We're truly blessed with the family we've come to know here.
Please keep praying.