Sorry for the lack of updates – I woke up this morning to a couple dozen messages from various avenues essentially saying "what is going on?!?!?! no updates??!?! how is Ezra?!?!?!?! fool of a Took!?!?!?!" I haven't posted anything these past few days because… well, it's been the same as the last update, so I didn't want to bore you. Of course there's plenty going on mentally and emotionally that's enough to fill a book, but… well, you can buy the book. 😉
Generally you can tell the feel of the content of an update I post by the opening paragraph. Better moods translate to more humor, introspective to philosophical, sad to blunt. Today is a good day so far.
Ezra still hasn't eaten in nearly 2 weeks, and hasn't spoken in a few days. This morning Robyn and I noticed he was tracking us with his eyes (he hasn't kept his eyes open for more than a couple seconds in days) for decent amounts of time. We decided to give him a sponge bath, and as we were doing that he threw up a few times – which he hasn't done this whole time either. It seemed like he actually felt better after – he was looking around even more.
Since he seemed to be feeling better, we decided to put Winnie the Pooh on the iPad and let him watch it in the bed. Right now, he's in Pooh's corner watching it with eye wide open and has been for over an hour – and remember, before, he hadn't had his eyes open for more than a couple seconds in a week. He still isn't talking, and is extremely weak. But this is progress – the dr was 99% sure last Monday Ezra wouldn't make it a few days, he was that bad.
For all the flurry and hurry to try and get that Nifurtimox (which we did get), he has only taken 2 doses of the 6 or 7 we've tried. He still can't really swallow, and he is so out of it he just doesn't take it. You can't force a kid, much as we've tried – it just dribbles out of his mouth most of the time. We're hoping today will improve that outcome since he seems to be doing a little better now.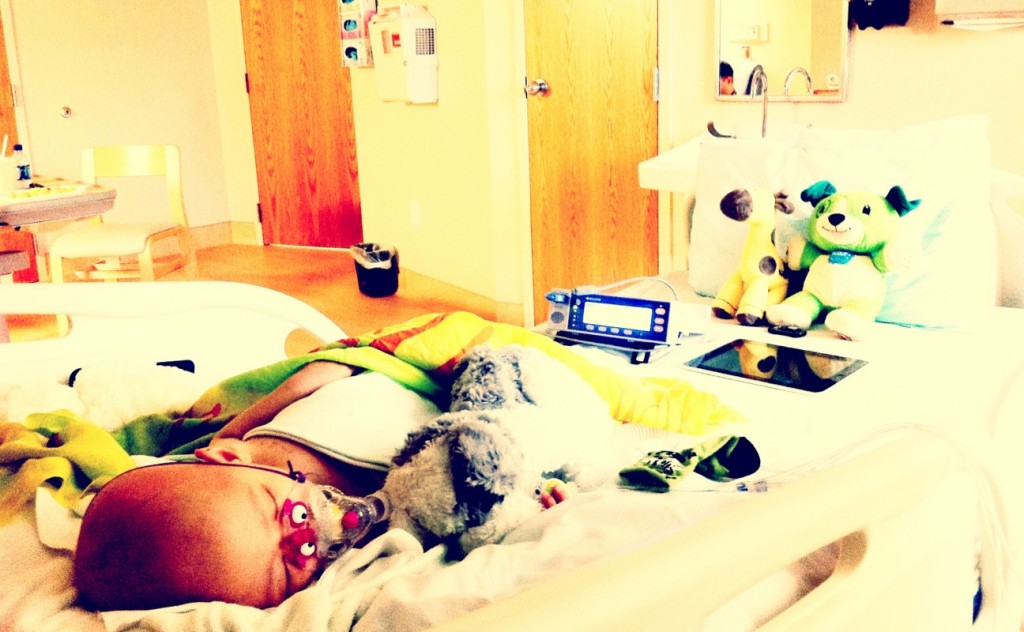 The question now becomes if this chemo's affect will last long enough to let his body heal itself – if you're looking for direction in your prayers, pray that. He had a great response to his last round of chemo in September, but we were to this point within a few weeks of him recovering from that round of chemo. Prayerfully he will get to a place now where we can get his eye radiated (the tumor has gone down ever so slightly – but it's still blocking him from seeing anything, and must be painful from pressing against his skull), and get him to start taking this Nifurtimox regularly.
Please keep praying – Ezra IS doing better.
We've had an incredible response to Ezra's story. This blog has had over 230,000 page views from over 55,000 visitors this month alone. That's not even counting the CarePages (I like the blog better though 😉 ). It's been humbling to see the hundreds of daily emails, comments, Twitter comments, Facebook messages, and other methods of support coming in. Please keep spreading the story – we fully plan on starting something to fight this stupid disease when we have a more stable situation with Ezra, and all this attention now will translate well into a giant social hammer to swing. Neuroblastoma is a punk, and get's very little attention and funding compared to many other cancers. Many other childhood cancers are the same way – yet they're killing our children. This has to be stopped – families shouldn't have to feel this much pain. I know we've changed for the better through and because of this past year, but it hasn't been worth the cost.