So… hey… where's Charley been all this time we're stuck in grating limbo in Orlando? Well – that's a story you'd be impressed to hear. So I'll tell it. We've been in Orlando 3 weeks (well, we were home ONE day in there) with Ezra. Charley has been at home this whole time, hanging out with a parade of amazing women we know. Vivian, Robyn's mom, flew in a couple weeks ago and is staying here almost a month carting Charley around to appointments, whipping his nursing care company into shape, and keeping our house running while we're in O town. On top of being here as well when she can to see Ezra. We offer a huge thanks to Joy, Kristin, Kim, Nicole, Debbie, and whoever else is taking shifts loving on Charley. I don't know what we'd do without you guys.
Charley is doing GREAT and he's babbling, smiling, and having a great time at home. He's working out his little muscles and seems to be coming along with absolutely no complications from his early entrance into this world. Joy texted me the other day with an audio clip of him babbling and talking in his little baby voice… and sent the opening picture in this post along with it. It was the first time I'd seen him smile. We can't wait to get home to him!
Sometimes I think by the time we can give Charley the parenting he deserves he'll be a year old.
There's so many weird mental levels to the situation we're stuck in. There's a guilt at not being able to be with Charley which we feel whenever we think of him. A little sadness with that too. On the Ezra side – it's the strangest feeling. We're basically waiting to find out if our son will live or die. We have faith God can heal. I pray for it every day. Many times a day. Like I've said before, we also know God calls people home at all sorts of ages, however fair it may seem to you or I. And right now – we're just waiting and praying. That feels weird, I'll tell you. He hasn't gotten worse, which is good – and he's only very slightly better. We are cautiously optimistic.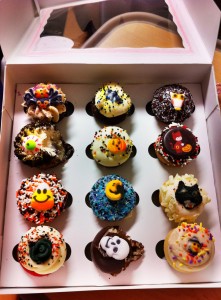 Things are much the same with Ezra – his platelets stay a day or two and disappear. His red blood cells (hemoglobin) seems to be staying better, but he needs them every other day still. He's on TPN which is IV nutrition, and lipids as well (IV fats). He still hasn't talked or eaten anything – even though our friend Jamie (all the way from Seattle!) had these awesome cupcakes sent in for him (don't worry, Jamie, we'll see they don't go to waste). We're getting him to take a few ml's of the Nifurtimox each day (a few have asked – no, it can't be delivered via IV or any other way) but it's really tough for him and he isn't able to take the full dose. We could do an NG tube but it's risky for infection since he's JUST out of chemo. We prefer to keep trying by mouth – we don't mind extra work on our parts obviously.
His eye seems a LITTLE smaller but it's tough to tell. It doesn't really open from the tumor stretching his skin on that side of his face. I hate cancer. It goes for the things you love and tears them apart. It tries to impress itself on the beauty of a family, a man, a woman, a child. It saps your energy, it robs you of your nutrients, it kicks in the door of your house and sits itself right at your table in the middle of dinner. It comes in the middle of a joyful time in life and punches you right in the gut. It's pure evil.
We are most likely going to have to be here a minimum of 2-3 weeks more. As soon as his white cell counts start going up we can start another round of treatment and continue the Nifurtimox. That should be in the next week, but he's weak now and will not be ready to go home by then. So this hospital stay is looking like it will last at least 6 weeks. He's usually pretty good about getting his white counts up, so we'd be starting most likely not this coming Monday but the one after that.
I should take this time to bring up a note on treatment options. And believe me – this is directed to no one in particular. For every one of you who has suggested an alternative treatment option, there are at least a half dozen other people who have emailed us the same option. We appreciate your concerns, and we appreciate the research and suggestions. I guarantee you since the moment Dr Rossbach sat us down over a year ago and told us our beautiful 1 year old boy had a high-risk, stage 4 cancer which more kids die from than live through – we have researched and read through every available treatment option. The parents of Layla Grace Marsh (another beautiful Neuroblastoma child who passed just in March this year) pretty much summed up my feelings on alternative treatments perfectly in a blog post they wrote in January – if you're interested in those thoughts, you can read through Ryan's post.
Support has been pouring in from all over the country and world still. We're floored with the response. Ezra's story and life are affecting family lives, prayer lives, and thoughts on life in general. I believe I've said it before (but I couldn't find the post on the blog so maybe not) – but early on in this Robyn said she prayed simply that this situation would have a positive lasting effect on people. I see that happening daily. Let me challenge you all with this – yes, sure, hug your kids and your mom tighter and be glad for what you have. But please, don't let the realization from this be that you have a lot and you're grateful you don't have to feel this pain. I pray people would understand a simple thing – the world is not all butterflies and roses. There is real hurt and real need, and "someone else" is not going to address it. Please, be constantly working to better those you come in contact with. Help people. We all have different ways of doing it, but let it be a little bit of a sacrifice, and let it not be just during jolly times of the year to assuage your desire to be a "good person." If there was an emoticon for "spoken with conviction" I'd toss it at the end of this paragraph, but I couldn't find one in the list.
Packages, comments, Facebook/Twitter shares, and emails have been flooding us – even Disney World sent us a package full of collectible buttons and signed pictures from the characters written to Ezra (thanks Jack for taking point on that barrage of communication to Disney).
Robyn is cleaning our hospital room as she does every morning, and I'm sitting in my "office" about to press send on this update. See ya guys in a day or two…