Alright – so I left you in a moment of peril with us there a few hours ago. Dire straits. Since then a lot of good things happened. Thank you (seriously – thank you) for praying.
The CT came back and was fairly definitive the "stuff" in Ezra's chest was fluid, and not blood or tumor or anything else. This is good. The dr quickly ordered the chest tube procedure, and a pretty cool Irish doctor/mother of 6 with an accent right out of a movie came up quickly to the 4th floor procedure room.
In less than 10 minutes she'd inserted the chest tube and drained a significant amount of fluid out of Ezra's chest cavity. This won't address the fluid in the lower abdomen, but that isn't a pressing issue at the moment – the pressure on the lungs and heart was. As you can see from the xray above, which was taken right after procedure, the difference was big and quick. (And yes, if you're a medical person, the chest tube WAS pulled back a little after the above xray was taken – that's a little far in they decided after seeing the xray.)
The chest tube will stay in him until the drs feel it's no longer necessary. Right now it is necessary. It's literally just a small tube coming out of his side. Well, with a long tube attached to a bag also, heh.
Here's Robyn standing over Ezra post-op:
And I just know some of you want to see the gunk close up. Well, you're disgusting. But I'm totally with you. So here's a close-up of that bag. Yah, it is red – but it's not blood. Blood would be a much darker color. All this stuff was pressing against Ezra's lungs, and now it's hanging in a bag at the foot of his bed.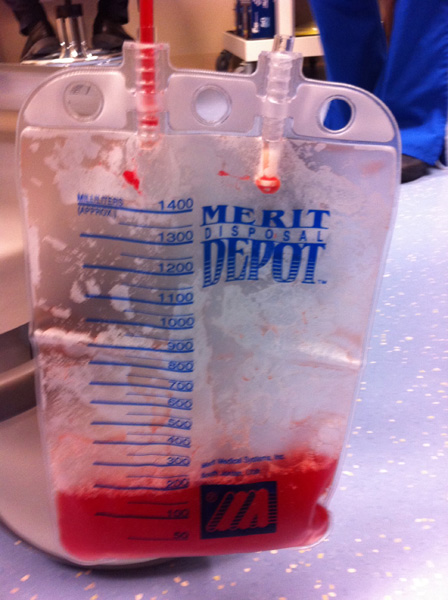 The CT (that's an xray at the top of this post, not a CT) showed some other interesting things. The most positive – many of the tumors are showing signs of dying. Some are not, but quite a few look to be smaller or dying. This is good news. It means he is responding to the chemo, and it means he is fighting hard. I am sure all of your prayers are making a difference.
An interesting mystery – Ezra's liver is huge right now. As in – huge. Like 5x it's normal size. The drs aren't sure yet why that is, although from his chemistry they can tell it's still doing it's job; it doesn't look to be dying at all. The liver is not a critical issue right now, but it may be a symptom of something else – what, we're not sure.
So… where are we at? Well, today was a lot of good news. We are now still waiting for his counts to come back up. If they do by Monday, it'd be exactly 21 days since the last chemo started – the earliest date we could start the next round of chemo. That's the plan if his counts are good. This release of pressure from his lungs and heart should make him much more comfortable in the meantime.
We are not in the clear at all. We are very much still in a dangerous place. He still hasn't even spoken or eaten in weeks. He is still asleep all the time. He is still weak, and the cancer is still extremely aggressive. We still have weeks left we'll be here in the best case scenario. But by God, we have a foot in a door that was about to close. And it's wedged in there pretty solid.
I will continue to repeat – please do not stop praying for our family. We're thanking God for yours.