So as I mentioned last night, Ezra's heart rate has been up and his breathing has also been very rapid. We were thinking this was from the fluid in the lung (an xray was taken on the 18th which showed fluid in the abdomen and some in the lung), and perhaps the heart beat being so fast was from pain, although we weren't sure what specifically was causing that. The tumor by his eye is enough better that it looked like it shouldn't be causing that much pain (although it's still very much there, and he still can barely open that eye at all).
The dr suggested we do a chest xray again to see what was going on. The results are not good. I've posted a side by side of the xray from the 18th and the one from just now below (check thematthewsstory.com if you're reading this on CarePages). I'm not sure I was supposed to have this yet… but uh… I was snapping pics on my cell phone while the doc wasn't looking as he showed us. 😉
You can see a couple weeks back there was something there (we think fluid), and today that is nearly in his entire chest cavity.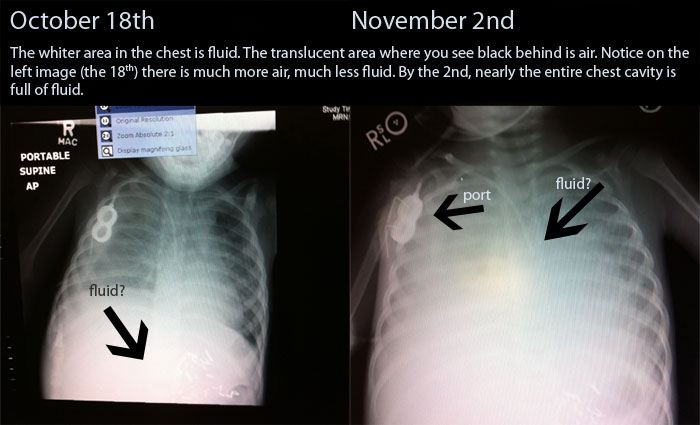 We are not 100% sure this is fluid – it could also be tumor. And if it is fluid, we're not sure if it's basic fluid which we may be able to drain, blood, or what's called Malignant Pleural Effusion – basically a secretion from tumors which would not be able to be drained as the tumor simply keeps making it. The dr has just ordered a CT scan stat, so Ezra should be getting that within the next few hours to try and get a better hold on what this is.
If it is simply fluid (not blood, not tumor secretion, not tumor) we are going to try a chest tube to drain it. This will allow Ezra to breathe easier and slow his heart back down (the thought being the heart is beating faster due to pressure on it). There is a very real risk of bleeding associated with this option, but his platelets have been hovering around 20 the last few days, and we will give him more today as well as daily going forward. If we do nothing with this, it is not stopping so it would soon mean he would not be able to breathe anymore.
If what we're seeing there is either blood or tumor, the situation is much worse, and… well, basically, we'd be unable to do anything anymore for him but pray. Please keep doing so. We're on our knees in faith and fear.