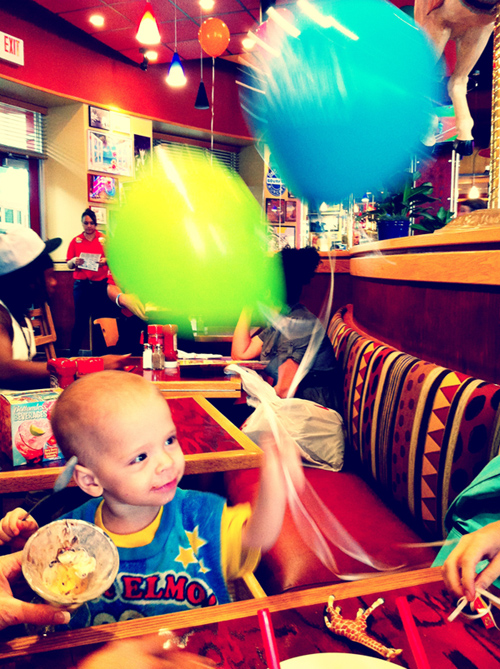 Ezra died this morning.
I never wound up going on that bike ride – Robyn called me Saturday night saying Ezra was getting worse to the point the doctors and she thought I should be there. I drove back to Orlando. Ezra was hurting from the swelling in his abdomen, and his morphine was upped to keep him comfortable Saturday night. Yesterday, Sunday, we knew he was slowly shutting down. My family came by the hospital, and so did Robyn's. It really was a beautiful day… a lot of laughing, crying, and loving on Ezra. By 9pm or so, everyone had gone home, and Robyn and I went to sleep. Ezra was on a 98% oxygen flow, and his oxygen and heart rate numbers had both been slowly dropping all day.
At 2:40am we woke up to his monitor alarming a low heart rate; it was 50 and slowing. We curled up in the bed with him, praying, kissing, holding, and talking to him. By 2:50 he was gone. We lay there with him a while, then started packing up the room to go home without our son for the second time this year.
I am a better man for having had Ezra as a son. Robyn is a better woman. Over half Ezra's life was spent battling this cancer… living in hospitals… and yet I've never met a child as giving, joyful, thoughtful, kind, and fun as Ezra was. I hope I can live a life showing that much inner strength and character.
I wish you could have known him more. I feel this blog/CarePages has been a powerful tool – in the past month over 100,000 individual people have visited this site, every one touched by Ezra's story somehow. Emails have poured into our inbox. Packages have flooded our mailbox, and the hospital's. I can never sum up my son with words on a screen, but I pray you got a piece of his personality through this. I hope you felt you knew him. I hope you feel the pain and joy this past 13 months has brought us. Ezra is someone more people should have had a chance to meet.
We do not see the end of the fight against cancer here for us. How many more families are in the middle of this right now? How many will be tomorrow?
We will be having a celebration of Ezra's life, we hope this weekend. I will update here with information when we finalize those details.
Please, be changed because of this. Recognize the flawed world we live in, and work to help the ones you can. Really work. Recognize the hurt in the world, and recognize the grace that gives us a chance to still be beautiful.
2 Timothy 4:6-8 "For I am already being poured out as a drink offering, and the time of my departure has come. I have fought the good fight, I have finished the course, I have kept the faith; in the future there is laid up for me the crown of righteousness, which the Lord, the righteous Judge, will award to me on that day; and not only to me, but also to all who have loved His appearing."
We miss you, Ezra.