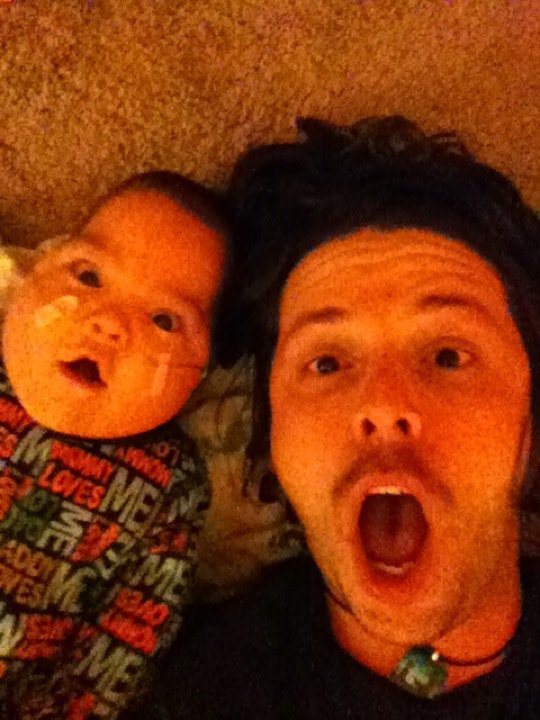 It's 2011. A new year. This past month Robyn, Charley and I have been getting some rest and doing our best to enjoy the holidays. It's been difficult, but we're surrounded by a large group of loving family and friends who've been more help than they'll probably ever realize. We took a vacation. We danced in friend's living rooms to celebrate birthdays. We crammed 17 people around a wooden table for Christmas and smiled, laughed, and shouted to pass the baked feta. We walked around the world at Epcot for New Years and celebrated in each "country" at the time it was turning the year there. Robyn and I have cried both by ourselves and together deeper in this past 6 weeks than we have in our entire lives. We've felt an intense bond in our love grow as we feel this together.
Charley is doing so good! He is still on oxygen, but has been able to be off an hour daily, and he has no issues when he's off it. We have another appointment for him the end of this month where the doc thinks he'll probably be completely off oxygen, or at least during the day (might still need it while he sleeps just as a precaution). He's getting better at taking the pacifier again, which is good – from there we can start working on getting him to take food or bottle by mouth. He's nearing 20 pounds already, and still wearing the same size diapers Ezra did! My mom likes taking him out through the neighborhood on strolls when the weather is nice. Charley is babbling a lot now, and his little personality is showing itself all over. He's an obstinate little guy, and we love it. He puts up with a lot! With many babies the hardest thing their day consists of is laughing – Charley has spent his life having his most difficult thing being to simply breathe. Typical things we take for granted like breathing, eating, and even moving your head around are difficult things for Charley. He is overcoming them well and it looks like there will be no permanent issues at all, which is a miracle in itself, but it is a long road of a lot of work for him. The worst bit is already behind him though. He smiles every time he gets a kiss on the cheek.
We had set up the Because of Ezra foundation early in December and set it aside for a month to do our vacation and holidays. We're now in January and ready to pour into the thing – flesh out the website a bit more, and begin making solid steps forward. We will be meeting with a few doctors this month to clarify direction in some areas, and are flying to LA in a few weeks as well to meet with some really cool folks who are going to be a part of the fight with us. We're very excited about the future of Because of Ezra – I know it is going to have a significant impact on raising awareness and pushing funding towards a cure. Many of you have emailed in asking how you can help – we'll be finalizing a lot of those details this month too. 😀 We have a ton of ideas and we're looking forward to making them happen, and having you all along the way with us. I'm also looking at writing a book of Ezra's story this year. There's so much to do!
The pain of loss doesn't get any easier. Folks say it hits you less often, but the pain is the same. It's a deep, gut-wrenching feeling of wanting something so bad and realizing you can't have it. God promises we'll see Ezra and Price both again, but never in this life, and that pain hits at the strangest times. Sometimes for a minute, sometimes for an hour. 2010 was a hard year. And not just for us – all around us we've seen hurt, confusion, and doubt. Pain has littered the lives of so many we know, and although I know a life without pain is a life without understanding of joy, I can't help but ache when I see everyone's struggle. In the New Year, I hope you do make your resolutions to get up on your fitness and all the typical ones. Your body deserves to be respected – God calls it a "temple of the Holy Spirit". But more than that, I hope we resolve to pay attention to the people around us and care. I said the morning Ezra died – "Recognize the flawed world we live in, and work to help the ones you can. Really work. Recognize the hurt in the world, and recognize the grace that gives us a chance to still be beautiful." I say that in my head every morning, every day. As we are all in reflective moods this week now that the year has turned, I pray that challenge will find a deep spot in our characters.
Truly, you are all incredible, and I thank God for you all often!