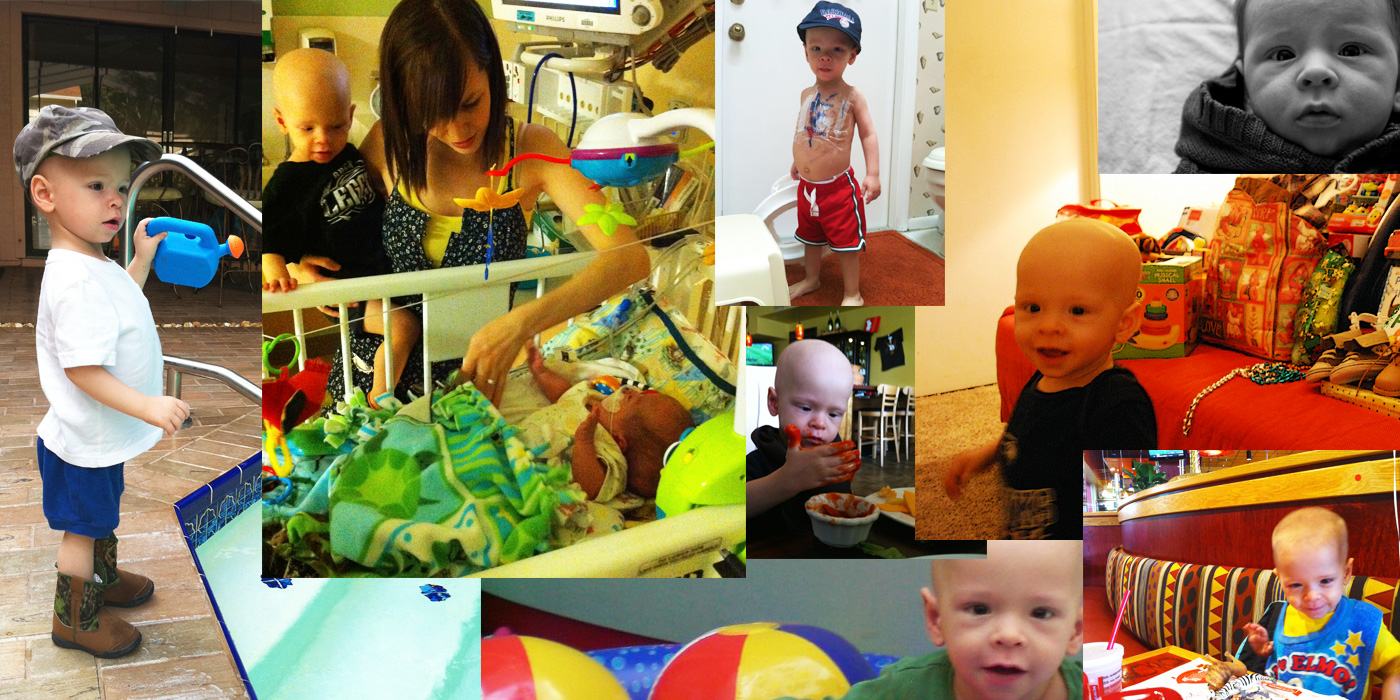 Two years ago today Ezra died.
The house still feels wrong without his voice. I sat in my office the other day and watched this video for 30 minutes on loop, crying and laughing. I miss hearing his voice.
You go through a lot of feelings when you lose a child. Then when you lose one again. Then when your remaining, third child, lives in a hospital for 7 months and fights like a madman to finally, after a year, breathe on his own while he sleeps.
We've been angry. We're still angry; at cancer, at us not having enough research yet to cure this, at a world where this can happen to so many families, sometimes at God.
We've been sad – a deep, arctic sadness. Vast, cold, lonely… simple and sharp in its pain and so very cruel for that. It hides more as we get further away, but it's never gone.
We've been grateful – for the time we had with Ezra, for all the photos, videos, and stories you and we share about him. For friends who make all the difference. For the incredible people we've met these last two years. For you, for reading this.
We've felt despair. Moments where the weight of feeling all of this is just too much and 'overwhelmed' seems like a word kids use when playing trains compared to the crushing depths our minds get worked up in.
We've been impassioned. Working on Because of Ezra we keep meeting these amazing people, some who's kids are fighting neuroblastoma right now. Some who've lost children. Some who've beaten it. Some who haven't had neuroblastoma's evil hands on their family, but have connected with these stories and are fighting now with us.
Ezra lived 800 days. Robyn says they were the best days of her life. People say that all the time, of course, but I know they were for her – I've never seen her so perfectly happy as she was with Ezra.
One thing we've been doing in Ezra's name is creating these videos to tell the stories of children like Ezra, who are fighting neuroblastoma now. We call the project 800days (800days.org), in remembrance of Ezra's life. We're doing this through Because of Ezra, and meeting these families has been excruciating and empowering at the same time. We've met families like Caden's, Malia's, Brooke's, Emily's, and Christopher's. It is such an honor to be able to do this. It is an honor to tell these kids' stories, to continue Ezra's name on such an amazing way to fight; to work with people like Mindy Kaling who have been graciously pouring in support. Please – take a minute today to look at 800days.org and share the videos there. This is something we do Because of Ezra, and it is making a difference.
Robyn and I had a conversation earlier today about how telling these kids' stories and working on Because of Ezra feels like a way of keeping Ezra alive. It's how we keep his name being spoken, know his life is still affecting change, and feel like we are still being his parents, looking out for him. Telling stories like his, and fighting to stop this stupid cancer.
In January, day 1601 will happen. It will be more time since he died than his entire life. In 800 days, Ezra changed us forever. He is, and will always be, our first-born son.
I wish he was here this morning.