a story of neuroblastoma, premature birth, loss, and adoption
September 28, 2015
We have absolutely been honored to have so much support this year in our Karaoke for the Kure events, both in LA (August 17th), and Tampa (Sept 26th). Over $125,000 was raised for childhood cancer research in LA, and over $93,000 in Tampa.
In Tampa, 7 families who've personally fought or are fighting childhood cancer showed up, illuniating why we've started our Because of _____ program. We started Because of Ezra, well, because of Ezra, but we're still pushing now because of so many kids and families.
Over 400 people showed up in Los Angeles, most of whom Robyn or I didn't know, which makes us proud. We are sharing the stories people need to hear, and we are working to get people on board with this mission of curing childhood cancer. We are beyond grateful to United Talent Agency and Marissa & Matt, Erica and Brad, and all our friends in LA who made the LA event a success, again.
One of my favorite moments, and one of the hardest, was singing at Tampa's event. Robyn asked me a couple weeks before the event if I would sing "Fix You" by Coldplay, and my initial reaction was "no way." It's a sad song, but beautiful, and I didn't think it fit (nor that I could get through the song). But, as is usually the case, she was right – it fit perfectly into the evening, and we covered the screen behind me with kids we've met over these past 5 years as the song played.
Because of Ezra continues to grow, and I feel like I'm using the words "proud," "honored," and "humbled" constantly, but I experience those things daily. Robyn and I, Noelle Muniz now as well (our new Assistant Director for BoE), and all you supporting BoE, are little pieces of a giant group of people doing things just like us, and genius researchers and passionate physicians and clinicians all pouring their hearts into making it so, as Dr Giselle Sholler said this weekend, "we never have to tell a parent again, 'your child is incurable.'" It makes a difference.
Love you all. I'll make it a point to write here more often, and not just on big occasions, as I know we've been slacking a bit.
Because of Ezra
|
1 Comment
August 31, 2015
Ezra would have been seven years old today. Happy birthday, son.
It is terrible and beautiful that Ezra's birthday falls on the day before childhood cancer awareness month, September. Every year since forming Because of Ezra, we gear up for September for months, and then just before it starts, our lives get the wind knocked out of them today.
Robyn and I were in Philadelphia this week discussing childhood cancer research with an amazing group of people who are leading the charge in childhood cancer advocacy. It was humbling and exciting. We sat in the hotel room one afternoon, and broke down in tears when a video of Ezra came up on Robyn's Timehop app. It's at the bottom of this post. We cried together for a while.
It isn't fair. There's no happy bow on losing a kid to cancer, and there's no real explanation. It's just a terrible thing that happens, and we live with that tear in our heart. That day in Philly we sat on the bed, talking about how he was so much like me, always hopeful and smiling, easy for Robyn. How he had my lips. We remembered how he used to dance around all the time, and we wondered it'd have been like to have him here, now, a 7 year old. What would be different.
We miss Ezra. Some days my memories of him are less clear than my memories of the moments we have on video or pictures, and that's scary. It's weird and sad to think when I listen to his voice, I'm a little surprised not to hear Charley's, which I'm so used to now. That I have to watch a video to remember Ezra's voice sometimes. I hate that. I feel like I should be able to cement it all clearly in my memory for full recall at any time, just by some force of willpower. I'm angry that it doesn't always work.
The other day, we met the family of a little girl named Sofia. Sofia is being treated at All Children's. This weekend we shared a meal and a day with them at their home in St Pete, and watched Charley and Sofia run around their living room and pool, with Sofia's older brother Aiden.
We talked about the way priorities shift when cancer slams into your family through your child. We talked about how trivial the things we used to worry about seem, and how open our eyes feel to this scary new world of need; how we never even realized childhood cancer was, as it seems once you've been touched by it, everywhere. We talked about how we are beating it. Robyn and I are proud we're able to help bring trials and more treatment options here, so families don't have to travel, often spending time with only one parent around.
We'll be celebrating Ezra's birthday by remembering his smile and laugh, and by knowing we are making a difference still, in his name. Happy birthday, Ezra. Your mom and I love you, and miss you.
800days
|
1 Comment
June 26, 2015
Today, our friend Brooke Hester died.
I'm overwhelmed with love and anguish for her family. There's a crushing feeling in my chest, which gets tighter as tears gather in my eyes, and there's no release when they slip down my face. I'm so sorry, Jessica, Beau, Benjamin, and the little sibling on the way.
When we first met Brooke, in Grand Rapids, MI, we were filming her story. She was all business and smiles, saying a brusque hello and quickly making sure we had a gift from her prize cart. A squirting clown flower for me, and a "blossom" for Robyn (a flower for her hair, with a clip expertly hidden beneath).
While we were filming, Brooke was watching a video on her iPad with her headphones in, and at some point she looked up (just as her mom was whispering an emotional sentence), and shouted something random about the cartoon. It was that thing where your sense of volume is all messed up from having your headphones on, and we laugh to this day remembering and re-telling that story.
Over the next couple years, Brooke and an army of volunteers gave out over 19,000 blossoms, and many more smiles, through her organization Brooke's Blossoms. Jessica and Beau stood strongly by as their daughter's constant smile accompanied her determination to bring joy to kids in the hospital floors Brooke shared. All the while she was battling neuroblastoma, diagnosed in 2010, the year we lost Ezra to the same cancer.
The world's not fair. Beautiful, inspiring people are torn from us. Kids get cancer, and sometimes die. Strong, good, determined families are left with loss. It takes us too long to find the cures we need, and we are pierced with pain, with an intimacy with tragedy which becomes a part of who we are.
Brooke lived. Her joy was loud, and she should still be here. We should be able to cure this. Jessica should still be laughing with her daughter, and Beau should still be that strong, safe embrace. She deserved to keep being that amazing big sister.
Hesters – we love you. We know it hurts, and we will always be here for you. I am so sorry. Robyn and I will mourn your daughter too, and we will not stop fighting to change the story for the next family. We love you.
Because of Ezra
|
1 Comment
November 27, 2014
for 800 days
for the 1480 since
for patience when my questions aren't easy
for a God who pays attention regardless
for Robyn, who is fierce, who is home, who knows me
for sons here and for sons gone
for family
for friends who've become family
for health
for a clear sky with a bite in the air
for gray days when I'm stuck in my mind
for the knowledge of tragedy
for the strength to help today
for differences which remind me to learn
for mountains, and the knowledge I am small
for the smile in Robyn's eyes when she sees me
for safe places when I am weak
for people to know triumph with
for growth
for grace
for hope
General
|
3 Comments
November 18, 2014
Let's talk about Charley.
This kid is 4 months shy of 5 years old, and an absolute joy. If you say "cheese!" he drops everything and poses with the biggest grin you've ever seen. He tickles back. He gets back up after every fall, and he falls a lot. Unless there's a bump on his head, on his way back up he's smiling and determined. He's got stronger abs than I do.
Charley has had, when compared to other kids his age, a tough coming up. He spent 7 months in the NICU at All Children's in St Pete (we love you, ACH!), and was on oxygen for another 5 months when he finally did come home. We barely went anywhere with him – it required lugging an oxygen tank connected to his face with a tube and a nasal cannula, and we spent more time explaining than doing anything else when we were out. Not to mention having the entire attention of every single person we passed.
He didn't eat for years by mouth, and still has a MIC-KEY button on his stomach and gets his feeds pumped in. He's getting better now – having his tonsils removed helped this year – but the doctors think it will be another couple years before he's fully eating by mouth and can have the button removed.
Charley's legs hurt all the time. He's got mild cerebral palsy, which causes tightening of the muscles. Luckily for him, he retains most of his muscle flexibility, but his legs are the worst. He's learning to walk still, at 4, but it's made tough by how tight those muscles are – he has to walk everywhere on tip toes. We've tried leg braces, but are now looking into Botox injections into the muscle to calm it down. Apparently it works well. If it doesn't, in a year or two he may need surgery to help keep those feet flat. We're hoping to avoid that – and you can see he's walking much better and farther than ever.
Still, Charley smiles constantly. He is behind in many ways, but not when it comes to joy. He dances when music comes on. He's singing along now, and loves to shout from the back seat which direction he wants us to turn at every red light. When a truck stops in front of us, Charley yells "Go around it!" He takes pictures of himself on every iDevice he gets his hands on, and then closes all the apps out by double-clicking the home button and swiping up on all the open apps.
He laughs a lot. Robyn knows his ticklish spots, and gets him every day. He will laugh for a good while then say "stop it!" He can tell you what color our cars are by memory, and knows the directions to Rocket Fizz – our favorite local candy store. He loves Mickey Mouse, Buzz Lightyear, and Magic School Bus.
We have learned a lot from Charley these nearly 5 years. He, like us, smiles through pain. He is strong and caring and curious, and determined despite constant frustrations his own body forces on him. He knows other kids are walking better, and you can tell the days it's frustrating to him. Still, he gets up every time he falls, and asks for help or tries again.
He helps mama brush her teeth, and is starting to make jokes (although I don't think he always know they're funny, ha) and "say the darndest things." Some of my favorite moments with him are Saturday mornings cuddling on the couch watching a movie while he's getting his morning feed. Or watching him wrestle our boxer, Jack, who is the picture of patience and the perfect dog for a 4 year old. When Charles moves back in, I am sure the two of them will continue to have a great relationship like they have had.
Robyn works hard on Charley – he is a lot of work. Though he makes it a pleasure to do, he requires hip x-rays, neurosurgeon updates (for the shunt in his brain which will stay there for life), gastroenterologist visits (to check his MIC-KEY and how he's eating), swallow studies, physical therapy weekly, speech therapy weekly, occupational therapy weekly, eye dr appts, and a host of other specialists and professionals helping us get him caught up. He may never be the fastest runner, but he will be the most determined. Our team of care professionals seem to think by the time Charley is 7 or so, you won't be able to tell he was any different than other kids. Well, as far as development goes – obviously he's much cooler. 😉 It used to be hard to believe that – he seemed so far behind. But lately, we're constantly amazed at what he knows and how much he's growing. He's going to continue being incredible.
You deserved a glimpse of the boy Charley has become, and is becoming. Robyn texted me earlier saying "it's time for another Charley update!" She was right. Charley is a smile and joy. We love every minute of growing with him.
Charley
|
15 Comments
November 8, 2014
Right now, four years ago, I just wanted sleep. Ezra died just after 2am, and we left the hospital by 4. We were in our bed in Tampa by 6. Eight months before, we'd lost Price. Charley had come home from 7 months in the NICU just 30 days before Ezra died. We were tired.
Robyn and I had no clue how to be. We still don't, i guess. We build our lives because hey, time's not stopping. We work to change Ezra's story for the next family. We answer the "how many kids do you have?" question with sad smiles. There is no "getting better" – there is only learning to seek beauty through a stained window of loss.
Robyn's older brother David and sister in law Angela got into town last night from California. David is playing with my dad and brother in a golf tournament Brighthouse Enterprise is throwing to benefit Because of Ezra Tuesday. We're honored to see incredible partners like Brighthouse Enterprise furthering a cure for childhood cancer with Ezra's name attached in some small way. Thank you.
We stayed up late talking about life and how we're often forced to be strong purely because there is no other option. We talked about how I don't believe "everything happens for a reason." I know people mean well when they say it, but it's simply not true. Ezra didn't need to die in order for the many good things since then to happen, nor did any of the children of so many friends we've made who have felt the horrible sting of childhood cancer. We choose not to be bitter, and we choose to turn this constant awareness of pain into passion to help others. And believe me, that choice has to be made every day. God makes beauty from ashes, yes, but He doesn't have to burn something to the ground to cause the beauty.
We are strong. We have been made resilient through hardship, and our intimacy with tragedy has tempered us. Today, we will visit both our sons' graves. They lie under a bell tower in a field we often see deer in. They are right next to each other, and although we've not been able to find the strength to be the kind of parents who visit a gravesite often, when we do it is good. We've been there alone and together, with books and with a bottle of champagne, with tears and with laughter. Still, I know granite and bones are just a reminder of our sons; they are no longer here. There are pieces of them both left all over our hearts and our lives, and we will never let that change.
General
|
4 Comments
October 13, 2014
this is a re-post from a post I made on
Medium
---
We've had the police at our house close to 20 times in the past 90 days. Our story of adoption, sonship, breaking of trust, and healing.
Since losing our two oldest sons, Ezra and Price, in 2010, Robyn and I both have a more visceral understanding of human tragedy. 13 months of cancer treatment, 2 weeks of hospitalized bed rest for Robyn, holding two sons in our arms as they died 8 months apart… you shed any focus on petty things.
We've become what I call negative celebrities — we're the saddest story people around us personally know. This wrenching of our hearts from ourselves tugs on a part of a person, and more often than not when someone first hears our story, they share one of their saddest stories in reply.
I often tell about an oil change I got — a 16 year old kid came to pull my car around, and noticed the tattoos on my arms. He asked, and I told him I've lost two sons, and this is where I carry them on me. The kid blurted out "my girlfriend had an abortion last night." I hugged him and talked a couple minutes, and that was that. It's become common for us.
---
This led us to adopt from foster care.
We knew from our friend Jesse there are many kids in foster care needing families. We'd become intimate with tragedy. A hard past doesn't scare us, and we believe we can be a part of a child's healing as he completes our family. Our friend AJ made a video interview of a kid for the Heart Gallery, and in November of 2012 when Robyn saw it she knew he was our son. He moved in October of 2013, and legally became our son January of 2014. He was 14, and had been in foster care ten years.
Adopting a teenager has been difficult. Or rather, raising a teenager who's lived what our son has. First, the good bits. He's smart. His grades are great, and have been great through a decade of foster care. That's rare. He's funny, he's witty, and he's socially engaging. He loves his little brother, our 4 year old. He's brought volume to our home, mostly in a good way, and is full of energy. He smiles a lot.
Foster care is a broken system, where kids can live in 12 homes in 10 years, from trailers to traditional homes to group homes to institutions.
Case workers and group home staff aren't paid well, and the stressful positions have incredibly high turnover. Case managers are loaded up with so many children to look after, they spend little time with each, and become exhausted quickly. More turnover. Kids are brought to "adoption events" where they're introduced to various families in what our son called kid auctions. All this teaches kids to perform and deflect rather than connect.
In our experience, we've found staff members at group homes are often inappropriate with the teens, treating them as buddies instead of kids who need mentoring. During our visitations, staff would try to get our son to have Robyn bend over in front of them. When he got a phone after moving in with us, staff would text him sexual innuendos as jokes.
Children need permanency.
They need safety to allow them to develop, to grow, to look inward and outward both, taking in the world and learning how it works. Kids need to have truths instilled in them of the value of a person, the perseverance of hope, and the beauty of learning. You can't just tell a person this, it has to distill from your daily living. When we take away the feeling of safety by dismantling permanency, we've ripped away a child's ability to focus on anything but survival and self.
Keep all this up for a person's entire formative years, and it's no wonder our son has a tough time trusting. Or finding much value in people. Or having any belief authority is looking out for him. Still, we wrap our arms around him, hoping if nothing else he can learn from us hope is alive, he has great worth, and will always fit with us.
We were as prepared as we could be for difficult. We connect deeply with what we interact with, Robyn and I, and so have made many friends who are adoptive parents, specifically of teens. Facebook groups, meetings, classes, books, and adoption coaches round out our "village," along with professionals and incredible friends who've been through tough times with us before. My point — we didn't jump in this thinking we'd save some kid and bask in his gratefulness as the sun rose and set on beauty every day. We're used to messy, and it's ok with us.
---
When our son turned 15, a few months ago, we noticed an increase in intense behavior. He'd sneak out at night all hours, and we couldn't figure out what he was doing. He's a teenager, with wild hormones and all, but porn was becoming excessive — devices in the house I didn't even think could access it (that old flip phone from the storage closet?!) would go missing, and we'd find them days later with search histories to make a sailor blush. We wound up having to sell off our gaming systems.
Of course we were worried about the leaving the house, but aside from spending a ton on a full security system install, couldn't figure out how to stop it. We'd had multiple conversations, and our son would simply say he couldn't sleep, and was out walking around the golf course near our house. We explained to him this was not safe, nor allowed. His stories seemed off, and we weren't sure what was really going on.
At the recommendation of our adoption coach and some professionals on our team, we started calling the police when he would leave. He'd broken out of doors, windows, balconies. He'd unlock various rarely used doors and windows during the day so he'd be able to get back in through them when he left in the evening — it was to a point he was leaving nearly every other day. Making the call to the police the first time was awkward:
– Hello, 911, what's your emergency?
– My son has left the house and is missing.
– How long ago did he leave?
– An hour.
– Ok… has he done this before?
– Yes.
– And does he come back?
– Yes, he always comes back. But I think he is doing something illegal, and am trying to get some help.
– Ok, but he's your son?
– Yes.
– And he comes back the same night?
– Yes.
– So what do you want us to do then?
And we didn't really know, honestly. At this point it'd been weeks of him leaving every other night (that we caught — I'm sure many other nights he just got away with it), and we were exhausted. We'd hear him on our balcony climbing back up (it is easier to get on from the ground, and connects directly to his second story bedroom door). We'd find him on the roof. Or crawling in the dog door. I'd take a flashlight onto the golf course at 2 in the morning when I'd find his bed empty. So the cops… I don't know. We knew something was going on, and we were looking for help.
It wasn't unjustified, our thought he was doing something not quite right. At home our son had been more and more disrespectful, cussing us out, sullen behavior, and some minor physical skirmishes with me (two of which did get the police involved). He'd been increasingly inappropriate at home. I'm sure the lack of sleep he was getting wasn't helping him or us.
---
So eventually, a neighbor called. Then another. And again. We discovered our son had been on people's properties, being inappropriate, at all times of the night. And morning. He'd turn on the shower in his second story bathroom, point the shower head up so it sounds like the water would sound with someone in there (not an even fall — great trick actually), turn up his music, and climb out the window. We thought he was just taking long showers (it'd be 20–30 min).
Unless someone pressed charges, the police couldn't do much. And no one wanted to; I don't think they wanted the headache, and hoped it was simply a one time thing. They probably thought they were doing us a favor, and if it'd been a one-time thing they would have been. As more occurrences came to light, we realized there were deeper issues to address than the behavior itself. We'd already been in family therapy for a while, and being in foster care calls for regular therapy as well — our son was not new to talking, and is in fact great at it. But it was having no effect on these behaviors.
And the police were getting called for sure. We started learning names. I have a dozen cards on my nightstand. We'd see them out at a restaurant and say hello. Police would come to the house and already be aware of our situation from their co-workers talking about it, wherever police hang out.
In a meeting with our adoption coach, she recommended our son needed a safe outlet to address whatever was causing these actions, and therapy 2–3 times a week wasn't touching it. We looked for help finding a place like this, and it was extremely difficult. Crisis centers weren't comfortable they could address our son's specific needs. Responses would take days to get, in a situation which needed solutions quickly. We weren't sleeping much.
Someone recommended a process Florida has set in place which allows for in-patient behavioral help in a more intensive setting. Our home was very tense at the time, and we were told the process could be rushed and be done in 2–3 weeks. It wound up taking nearly 2 tough months, with more police and difficult situations happening the entire time.
---
This past Monday, we brought our son to a place he'll be able to receive the care he needs. He is still our son. We'll see him a minimum of 2–4 times per month, and talk to him often. We'll have family therapy all together a couple times a month as well. The program can last 5–8 months. It was a hard decision, but it is what he needs if he's going to start the healing from years of being moved around the system. We are hopeful.
So why share this?
I purposefully didn't share any of this these past few months on our family blog, which has a fair amount of subscribers. Even in this article I chose not to use our son's name (though if you're someone who knows us personally obviously it's different), and I've left out many details. Our son has a level of privacy which I question if I've pushed too far even with what I've written.
But we are not alone in adoption struggles, or struggles with a teen at home in general. And for months we searched, trying to get advice, trying to find somewhere to help. We found very little of people sharing their stories. It felt we were all alone in this experience. We needed to know what to do, and we were torn constantly. I write this to you who is battling this.
And it was difficult. I write to share how little we know about mental health, how little is in place for people trying to care for our kids, how tough it is to get real help when it's needed. We were literally told from one crisis center "wait until he hurts someone, then we can get police involved and do something." How horrible. Our son doesn't need to be detained or jailed — he needs to heal.
Robyn and I need to heal as well. We've lost two children, and it hurts. I get it. I am not mad at him. It's no different than if he was my biological son — there is no giving up. Our son has had it rough, and has become strong where he needed to in order to arrive at today in one piece. In that process he's had other areas of himself he didn't get to build on. I hate that he had to go through that — I hate it every day — but he did. So now he needs some healing. We are his stability, his safety. And we are not going to sit idly by and let him blame his past either — he's got so much future ahead. Good future. He is a walking mass of potential.
Foster care is a broken system. Kids need permanency. Familiar faces. Great role models. When they do get adopted, there needs to be better post-adoption support to help healing begin and continue. We had to claw our way up the ladder to get what was necessary — as a striking contrast, if we'd just called and said "this is too much, we give up," as many adoptive parents do in these situations, someone will come within a few hours and bring the kid out of the home. That's horrible — getting help is the right method, and should be an easy one to understand and complete.
We're looking forward to when our son comes home and we can continue our healing together under the same roof. Home.
Charles
|
18 Comments
September 6, 2014
I have watched this over and over again. It is everything I feel.
General
|
2 Comments
September 5, 2014
"We really feel like Ezra started this fight and we're going to continue it for him," Matthews said. "The more families we meet, the more kids we meet on these trials … It's not just a lab, it's kids and families going through the exact same thing we went through.

"We don't think it's an incurable disease. We just think it hasn't had enough attention. These kids can't really speak up for themselves, so somebody had to do it for them."
A huge thank you to Ernest Hooper for his article about Karaoke for the Kure (see you there!) and Because of Ezra in yesterday's Tampa Bay Times. Read the full article at TampaBay.com.
Because of Ezra
|
Leave a comment
August 30, 2014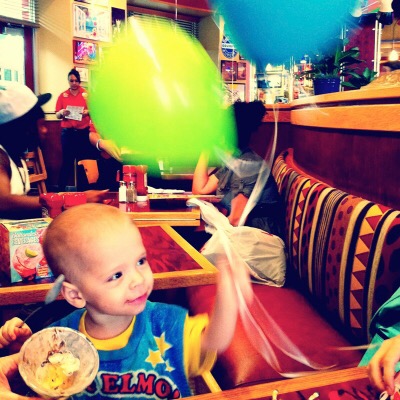 6 years ago tomorrow, Robyn and I were proud parents for the first time, amazed and bright-eyed to welcome Ezra into our lives. 4 years ago today, Ezra's neuroblastoma relapsed.
Our friend Kalisha posted a picture of her daughter, realizing she's a couple months older now than Ezra was when he died. She said "children should be dancing in water sprays and not fighting cancer in hospitals… it's about providing a way for kids to continue to dance and bring their light and grow up." We agree. It's hard to know Ezra will never do that here again.
The truth is, our story isn't uncommon. Over the past 4 years, we've met so many families who know our story intimately, because they're living it. We've laughed and cried with them, shared their stories, and worked hard with you to fund innovative research which is affecting these families – our friends – today.
Robyn and I are personally inviting you to come and celebrate Ezra's life, and all the kids who are fighting or have fought childhood cancer, at Karaoke for the Kure September 12th in Tampa. It's a fun evening, with a live band playing karaoke, an open bar (family friendly), and the knowledge we're affecting change. Ticket prices will be $60 this weekend in honor of Ezra's 6th birthday, and go back to regular price on Monday.
We miss Ezra every day. Both Robyn and I feel like the work we do through Because of Ezra is a way to continue to be his parents. Thank you so much for all of you standing by us these years – with every child and family we meet battling cancer today, our will is hardened and our hearts are softened.
Happy birthday, Ezra!
General
|
Leave a comment
← Older posts
|||