Moving through Neuroblastoma, Premature Birth, and Loss
May 9, 2013
The NMTRC (Neuroblastoma & Medulloblastoma Translational Research Consortium) is a group of 18 universities and children's hospitals headquartered in Grand Rapids, MI which offer a nationwide network of childhood cancer clinical trials. The group is chaired by Dr Giselle Sholler. These trials are based on the research from a group of closely collaborating investigators who are linked with laboratory programs developing novel therapies for high-risk neuroblastoma and medulloblastoma.
They're one of the groups Because of Ezra supports financially under our mission of funding relevant, patient-affecting research into a cure for neuroblastoma. The NMTRC hosts an annual symposium, where the members meet to discuss the previous year's work and future directions. The 2013 symposium was this past Monday and Tuesday (May 6-7) at the Wyndham hotel in Lake Buena Vista, Orlando, FL. Video will be on YouTube within the next week or two (and we'll mention when it is), but we wanted to share some of the experiences here first.
The NMTRC is unique in the level of community between the physicians, scientists, and families (both in treatment, out of treatment, and those running foundations). We largely attend the same presentations, dinners, and have structured open conversations about the work being done. The depth of collaboration is refreshing and inspiring. When you have parents whose children are ON a trial participating in the same conversations as the scientists who proposed the trial, the organizations funding it, and the physicians carrying them out… it's an incredibly effective synergy.
The work being done is truly remarkable – the first ever FDA approved personalized medicine trial for pediatric cancer, preventative trials to reduce the rate of relapse (in this case with a drug called DFMO), immunotherapy, and more. One of the most interesting presentations was by David Krag, MD, who is the SD Ireland Professor of Surgery at the University of Vermont (yes, he said, surgeons do science, too!). Titled Personalized Antibody – Timeline to Clinical Impact, Dr Krag discussed an exciting method of harnessing the body's own immune system to create personalized antibodies specifically for an individual's neuroblastoma tumor. It should be going to trial this year.
Personalized medicine is a concept at the core of what the NMTRC is doing. It has the huge benefit of being much less toxic (and much more targeted) than the standard chemotherapy regimens currently prescribed for neuroblastoma. These current standards are not effective (survival rates for stage 4 neuroblastoma hover at 40%, with relapsed neuroblastoma still having no known cure), and include rounds of treatment with what physicians call "kitchen sink chemo." Partnerships between the NMTRC and the Translational Genomics Research Institue and Dell have pushed forward much of this work by analyzing individual patient's tumors to find treatment options specific to their disease.
We got to spend some great time with non-profits also working toward a cure for neuroblastoma – and families who are battling it now. Some of the children represented included Will Lacey, Melina Riniolo, Brooke Hester, Saoirse Fitzgerald, Abigail Goss, Daxton Blanford, Chase Ringler - and there were even more. These children are each reasons we fight, and reasons why continuing the battle against neuroblastoma is so very important. Neuroblastoma CAN and WILL be beaten – and it is going to take time, passion, awareness, and funding. We are so, so, so, so grateful to have your support in making this a reality.
Because of Ezra
|
Leave a comment
April 23, 2013
Last night we sat in on a group of people talking about working with troubled youths. The instructor started cursing quite a bit during her story-telling, and there were some noticeable "whoa"s and nervous laughs in the group of 50 adults as she became more and more vulgar throughout her story.
Then she breaks character (or regains it?) and says,
If I'm offending you, or you're feeling uncomfortable, you won't be able to help these kids. They have been abandoned, abused, neglected, hurt. They are untrusting of you and desperately needing of you. They want love, and they want to prove to themselves and you that you are just like everyone else and couldn't care less about them. They will say all that and much worse. The strongest thing you can say after these outbursts is a simple sentence:

"I'm still here."
It rang so true to me. In the years since Ezra was diagnosed with neuroblastoma, I have become much more in tune to these hurts we all carry. The searching in our hearts, the wondering who we are, why we're here, what is promised, what is right, and what is good. I have listened and watched as our friends and loved ones (and Robyn and I) live our lives, continue to define our passions and priorities, break and build.
I have friends who are at the tops of their games – great success, well known, respected. I have friends who are in low places – lives broken, promises shattered. I know many people in the middle of these extremes. We are searching for meaning, we are finding it, and we are searching more. Sometimes it's far from the forefront of our minds, while we are excited and caught up in the passion of life.
We want to be known, both by others and by ourselves. Maybe we express ourselves through a song, a wall of paint, a film, a quiet garden. Maybe it's through an attention to work. At the heart of it we look for community – we want to be known. The size of this community we crave can change, but it doesn't disappear.
Hold fast to the people who truly matter to you, and don't let yourself fall away from them just because you don't understand the things they do after loss. It's a world of broken people we live in, and it's powerful to speak understanding and consistency to your loved ones.
"I'm still here."
General
|
6 Comments
March 15, 2013
— begin Charley summary

—
Today Charley turns three! We've had a great day; Charley slept in a bit after waking up early from allergies messing with his nose. We visited one of the local "paint your own pottery" places here in Tampa, and Charley splashed paint over all of us while putting multi-colored handprints on a piece of pottery.
A visit to Cracker Barrel for lunch, where he picked up some toys (and a lot of dumplin sauce on his face), and now Charley's taking his Birthday Nap.
Three is fun with Charley, although different. He still gets therapy at home 5 times a week (physical, speech, and occupational). He still doesn't walk on his own (nor even stand) but he pulls to a stand and cruises on anything he can find. He has a metallic green walker which he careens all over the house (and the neighborhood!) in, terrorizing the dogs and our feet. He's very ready to walk, but because of the tightness in his muscles it is difficult for him. Even so, we feel like it'll happen soon. He wears leg braces 14-18 hours a day to help with his muscle tone.
Eating is still something Charley doesn't really do – a 3 year old who doesn't know much about ice cream. He's still fed through his G-tube (in his belly), with a pump, which gets some stares if we take him out, but is normal for us by now. He likes to get tastes of food, which we encourage – although we're talking very small amounts. As in, today he had 1/4 of a french fry which made him throw up a bit. Food is a long road with Charley, but Robyn works on it every day, along with his at-home nurse, and his speech therapist.
Speech – which doesn't actually have anything to do with talking, but instead anything mouth related. A lot of Charley's eating problem is a severe gag reflex he has (the medical term is dysphagia). The speech therapist helps Charley exercise and use his mouth, play with and smell foods, and continual stretches for all his mouth muscles. Oddly enough, not eating also gives him those cute chubby cheeks – most kids lose those when they start using their mouth to eat, exercising jaw muscles.
Charley talks, but only a few words – mama, dada, baby, jack, yah, and bye bye. He waves hello, and is learning new sounds a lot more lately – experimenting with his mouth, that sort of thing. Developmentally, we're told he's around 18 months. Doctors do say he will need much more work than a normal kid (hey, that is normal for us!), but they maintain he should be caught up with only very minor issues (probably no marathons for this kid) as he gets older.
Charley's starting SCHOOL on Tuesday! It's a big change mentally for us – he's a bit behind developmentally, which can make it difficult for him to hang with kids his age. The school near our house has an awesome program for kids who need a little more help, and we had a meeting with TEN people there who are really investing in helping him out. He'll be with a nice small class, around a dozen kids. Some completely "on-track," some who need some extra work… all great kids. He'll be there 5 days a week, full days! This helps to prepare him for kindergarten – and they really seem like a great team.
— end Charley summary

—
Today is a strange day. It's also Price's birthday – Charley's twin brother. Although they both had an incredible amount of issues to work through when born (Charley spent over a year hooked up to an oxygen machine, the first 7 months of which were in a hospital without really ever leaving his incubator/tiny hospital bed), Price died only a week after today, in 2010. Of course we can't help thinking about Ezra's third birthday, a couple years ago. That was only 9 months after we lost him. Other young parents ask about Charley as we're out "How cute! How old is he?" and when we respond with his age, the answer is almost always "oh…" with a questioning look. It's a good birthday, but it brings a load of reflection and memory with it.
So many of our friends all over the country are having really tough moments lately. It hurts to see people we love in pain, and it hurts to constantly be learning how much a part of life pain is. It makes small moments more beautiful.
Overall we've been good. Charley is becoming more and more a little boy, Because of Ezra is going well, and Robyn and I are feeling strong and in love. It's spring in Tampa, which means weather in the 70s, sunshine, and light breezes. Perfect walking around weather. Or strolling, in Charley's case. There's a feeling of "waiting;" a pause, like some change is coming… but I think we're great. We're going to be great.
Charley
|
9 Comments
January 25, 2013
Pain is easy to portray, but to use your passion and pain to portray the ecstasy and joy and magnificence of our world is one of the greatest things in the world.
- Dr Who, paraphrased
we love you Ezra, and continue to see an ecstatic, joyful, magnificent world covered in pain
General
|
Leave a comment
January 16, 2013
Today marks the day we've been without Ezra as long as we were with him. 800 days from the day he died, after living exactly 800 days. It's a strange day for us.
We thought it would be fitting to do Because of Ezra's giving for 2012 on this day – this is only something we could have done Because of Ezra. So this morning, Robyn and I presented a gift from Because of Ezra in the amount of $75,000 to the neuroblastoma work being done by Dr Giselle Sholler at the Van Andel Institute in Grand Rapids, Michigan. Our gift was matched by an incredibly generous local family trust, meaning the total gift will be $150,000. This is specifically to fund a trial using DFMO, an investigational new drug which prevents relapse of neuroblastoma. We personally know many of the children on this trial, and it's a drug which has no significant side effects, and so far has been extremely effective. 50% of children who fight neuroblastoma to the point of no evidence of disease relapse – and there is no current cure for relapsed nb. Preventing relapse would be a huge accomplishment. Dr. Giselle Sholler received the gift along with the CEO of the Van Andel Institute, David Van Andel.
We are honored to be able to contribute to work which is making a huge difference in children's lives who are fighting the disease Ezra died of. In all their names, and from the bottom of Robyn and I's hearts – thank YOU for supporting what we're doing Because of Ezra. We couldn't have done this today without all your support raising awareness and funds. Our board members Marissa Devins, Erica Copeland, and Derek Pupello (and their spouses) all deserve a huge thank you as well – they are incredible people who make doing all this easier, and we are so grateful to have them on board. They are also amazing friends.
Late in December, we also supported the work being done by Dr Robert Seeger and the team at NANT in Los Angeles, with a $25,000 gift. NANT is doing some great work, including a study on the biology of neuroblastoma, and we're honored to support them as well.
Through your help Because of Ezra was able to give $100,000 in 2012 to researchers, physicians, and scientists making a difference in survival today for children fighting neuroblastoma. Thank you, thank you, thank you.
Robyn mentioned raising awareness and giving toward a cure is a way for her to continue being Ezra's mother – to keep honoring his name, to keep fighting the fight he started for us. We know the hurt neuroblastoma brings to a family, and to be able to take that away from someone in Ezra's name has so much meaning for us.
We look forward to doing even more to cure this horrible disease in 2013 – and telling more people about the need, the fight, and the ways to cure this. It is possible, and with people like you helping us, we know we can do this.
Thank you.
Because of Ezra
|
Leave a comment
January 11, 2013
Tampa Convention Center, New Years Eve, entering 2013.
For New Years Eve, Robyn and I went out with some close friends of ours to the Tampa Convention Center, where there would be a "ball drop", fireworks, and some music. 2012 had been a hard year – walking the line between grief that burns so icily deep it pauses your very will to move forward, and the thaw of knowing our life does in fact continue, fighting to give meaning to our loss of Ezra and Price (and perhaps a level of innocence in ourselves), and rebuilding the picture we'd had of our future family.
New Years is a unique holiday – these celebration or remembrance days tend to trigger our retrospective selves, but none comes close to the heightened scrutiny we feel on December 31st each year. It is a day when the past is tangible. I usually think not only of the past 12 months, but of the years I've had before – every end of year slideshow plays in my mind, every stop-and-consider-myself moment. It is one of those evenings when the future and the past are equally present.
The night was spent in good company with good talk; fast forward to the countdown.
Fireworks would be shot off above the bay, so shortly before midnight thousands of us pushed to the terrace. There was a ball drop with cash inside the door, which kept many people inside, hoping for a fluttering $5 bill to land in their stretched fingers. We stood just outside the door.
Just after the cash "ball" dropped, hundreds of people bottle necked out the door to watch the fireworks (they went on for 5 or 6 minutes after midnight). People were pushing and shoving – negating all their resolutions to be more aware of the human race around them – and generally having a good time. A girl in her young 20s somehow got pushed into our small circle of 4, and we brought her into our group to shield her from the throng around us.
It was loud, it was sweaty, and it was pushy. This girl had been nearly falling, and we brought her in and held her up. She smiled and yelled a "Happy New Year!" to us. People were celebrating all around, and the fiery sky was making our faces glow red and green as explosions went off 500 feet overhead. The girl grabbed Robyn's face and kissed her on the cheek, turned to me, and did the same. In our ears she said "you guys are great. You're going to be great."
It was an odd moment, practically, although in us there was no strange feeling. Conversationally (at high volume), Robyn asked the girl her name. She leaned in to us and said,
"Ezra."
Ezra.
Robyn quickly slipped a bracelet on her wrist, and the girl looked down and said "wait – is this a joke?" None of us really could talk for a minute – so our friend (who'd been watching this all) leaned in and gave a quick recap of our story.
"They had a son named Ezra, who died of cancer in 2010. He was 2."
She looked at us again, and said "I'll find you." Then she disappeared into the crowd, and we haven't heard from her since.
Thank you for the kiss to start 2013, Ezra. We love you, we miss you.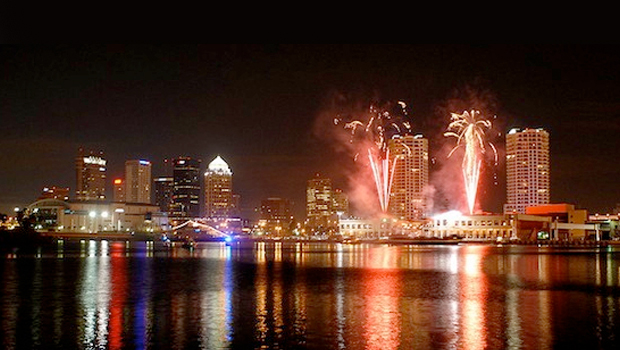 General
|
37 Comments
January 4, 2013
Today's my birthday, and I've got one wish. Ezra lived exactly 800 days, and January 16th will be 800 days since he died.
I wish for us to sell 800 Because of Ezra bracelets by January 16th. I'd like to see Ezra's name all over this country. Of course, any money raised will go to Because of Ezra – into research into a cure. Plus – we have a cool announcement on the 16th as well.
We'll keep a current count at the link below! Thanks, everyone – you people make me smile every day.
http://800days.org/bday/ - PLEASE SHARE!
800days
,
General
,
Pictures
|
3 Comments
December 25, 2012
Although it is hard to see, the picture above is of a piece of our wall which Ezra drew all over with a pen. As a Christmas gift to me, Robyn had a friend of ours (thanks, Michael) remove it from the wall, build this frame and mount the piece in it, and replace the drywall where it was pulled from, freshly painted to match the rest of the wall. I had no idea any of this happened. She gave it to me last night, Christmas Eve, and it is probably the most beautiful gift I've ever received. I'm so grateful for Robyn.
There are pieces of Ezra all over our life. This square of drywall, with the most "unimportant" squiggles of misbehavior, makes me catch my breath every time I see it.
In our shower, there is a small ledge at the bottom when you step in. Ezra and I would take showers together, and he would line up all his plastic toys on that ledge – always facing away from him. Each time I'd turn them toward him, he'd turn them away again. Now, every time I take a shower, I think of Ezra lining up his toys on that ledge, facing away from him.
I check the mail and remember Ezra as he would walk around in front of our house, just like in the video below. Such a quiet, "unimportant" moment which I always come back to. A sunny afternoon with my son. Nothing to do but hang out. A piece of Ezra.
A few months ago, a man named David called me after finding Ezra's story online. His beautiful wife, Lauren, had been diagnosed with neuroblastoma at 29 years old – very rare. Last night, as I was driving home, I saw David had posted she'd died.
On Christmas Eve.
I cried in my car. David – Robyn and I send our love to you. We are crushed to hear this. I am so sorry.
In Lauren and David's story, there is a piece of Ezra.
Today, as you are surrounded by people you love, and maybe as you grieve ones who aren't there, find some joy in these "unimportant" moments. They are the stuff our joy is made of. These simple moments are the building blocks we use to create a feeling of being loved, and of loving.
We did many big things with Ezra, and there were many important moments in our life with him. But when I think of our first-born son, I remember him in the back yard covered in leaves. I remember him bobbing his head around in Outback as a song he liked came on. I remember how he would dance, and laugh, and dance, every day he was able. I remember these small moments with such clarity, pain, and joy.
To live your life with someone you love is so significant.
Our prayer for you this Christmas season is for many of these "unimportant" moments. For living life with people you love. For smiles, even if they're with sad eyes, as ours often are. The world is so tragically beautiful – and I am broken in it, and I am awed by it.
From Robyn, myself, and Charley – a Merry Christmas to you and yours.
General
,
Pictures
,
Video
|
12 Comments
December 18, 2012
I hope the holidays are going well for everyone. I wanted to share the latest 800days video which we published today. Robyn and I visited Grand Rapids a bit ago with AJ and met Brooke Hester and her mom Jessica. Brooke is a spunky little girl, and Jessica is such a passionate mother. We had an amazing day with them, and are grateful they shared their story with us. Please watch and share the video, and consider a Christmas donation to Because of Ezra to help us cure the beast that stole our son from us.
We decorated our Christmas tree this year all in gold, the color of pediatric cancer awareness. We even topped it off with 50 gold Because of Ezra bracelets. It felt weird to pull our Christmas stuff out for the first time in a couple years. Ezra was born August 31st, 2008. That year, 2008, we had a small Christmas in our apartment in Tampa with our firstborn son, Ezra. He was 4 months old. We were a young family starting our lives, and everything was perfect. It felt magical. We sent out Christmas cards for the first time.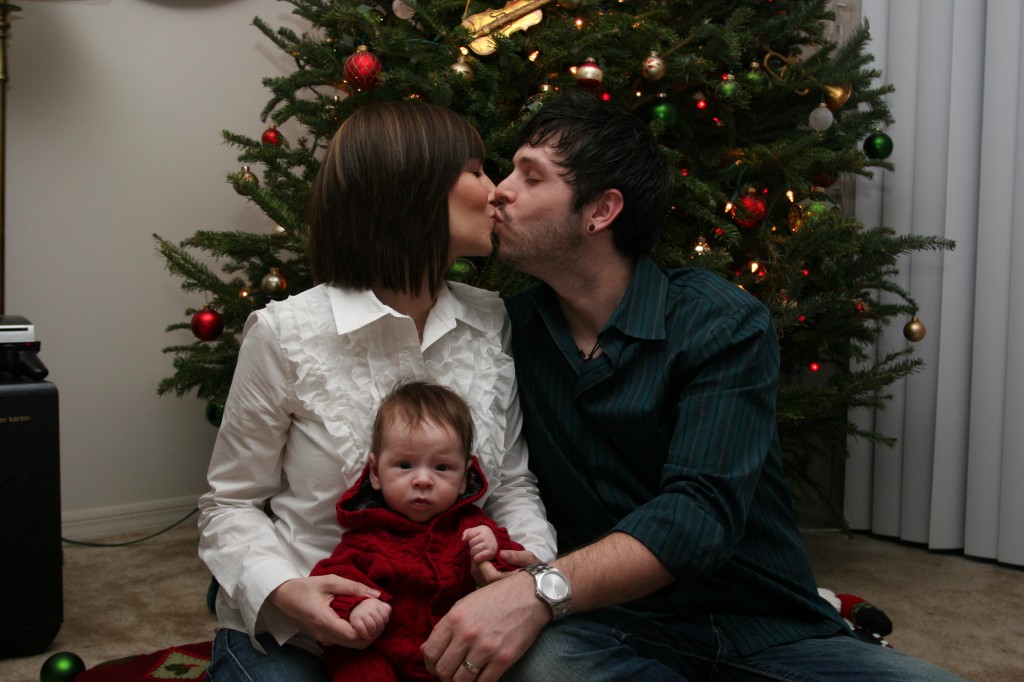 October 4th, 2009, we took Ezra to the emergency room. 2 days later he was diagnosed with stage 4 neuroblastoma. October 10th we found out Robyn was pregnant. By the 20th we knew it was twins. We spent Christmas 2009 in our newly purchased home, and 3 days later went back to the hospital for round 4 of chemo. That Christmas was great – a lot of love. The Children's Cancer Center in Tampa overflowed Ezra's room with donated Christmas gifts. It was a year of hope, and a year of the unknown.
March 15th, the twins were born. We named them Price and Charley. March 22nd, Price died. I held Robyn in my arms, as she held Price. October 1st, after 192 days in the NICU, Charley finally came home. On October 12th, we left Charley at home with his nana, and headed to Orlando with Ezra. I posted a blog about faith and doubt, sharing some of the struggle we were feeling. November 8, 2010, Ezra died. I was so empty by then, everything felt the same. I could feel nothing, because I was feeling way too much. A generous person flew us to Greece, where Robyn and I stayed for 10 days with no outside contact, and I think that trip may have saved our sanity, and our marriage. We mourned.
We came back just before Christmas 2010, and spent it at home with people we loved. We didn't decorate. I think there was a tree, it must have been set up by Robyn's mom, but to this day I don't think I know where it came from.
Last year, 2011, for Christmas, it hurt too much to do anything. We bought Charley some gifts, and headed to Seattle to spend the holidays with Robyn's parents. We let them handle the festivities. The overwhelming feeling was of something missing. We had had 3 children, and one was with us that day. It's not a feeling which one knows what to do with, really.
As 2012 closes, it is strange to look back at where we were a year ago, or two, or three, or 4, and fast forward to now. We have rebuilt our family to something which is strong as a whole, although often we find our individual selves weak. I lean on Robyn all the time, and she on me. I still ask God for direction, although I sometimes find it hard to trust Him. I am trying.
Charley knows we love him. I wonder how all this will process for him later.
There's a tree in our front room, and I climbed up the oak trees in the front yard a couple weeks ago after my 31st birthday, and wrapped Christmas lights all around them. When the sun goes down, the lights warm the yard and the house with a Christmassy glow. Still, much of it feels like rote.
This year we'll be surrounded by family and people we love for Christmas. I'll probably wish you a Merry Christmas here that day. But I'll tell you – it's hard, every year. It doesn't feel right. Our sons were stolen from us, and we love and live as a family continually putting itself back together. I know some of you are, too.
Love you guys. Ezra – we miss you. Merry Christmas.
800days
,
Because of Ezra
,
Video
|
6 Comments
November 9, 2012
Dave Matthews – 800DAYS from Because of Ezra on Vimeo.
Yesterday was the two year anniversary of Ezra's death, and we launched our 800days project in honor of the days he lived on earth. I thought it'd be fitting to share with you where we got this whole 800days realization from, and the inspiration for the name.
The following is a transcription of the eulogy Dave Matthews delivered at Ezra's celebration of life service November 13th, 2010 at Grace Family Church, Tampa, FL, seen above. This talk was the naming inspiration for our 800 days campaign – please take a look and share with anyone who'll listen. Dad – we love you, and Ezra did too.
I guess I believe that a eulogy should be like a good sermon – it should have a brief introduction, a short conclusion, and they should be close together.
So give me about 5 minutes, because I only wanna say 3 things.
First, I wanna say a very special thanks to all the friends of Kyle and Robyn – many of whom have become close friends of mine – who have labored and struggled so hard for so long to help them in this battle. I think that the true test of friendship was proven over and over, by so many of you who stood by my family for 14 months straight. Never wavering, never straying from their side. Never complaining or tiring of any of the constant need for anything that this kind of battle demanded. Always supporting them emotionally… physically… through a campaign that could easily have destroyed friendships built on lesser love.
Lindsay. AJ and Mandy. Larry and Kim. Mike and Deb Gilbert. Derek, Kalisha. Joy Adcox Sutton – there's a reason your face is on billboards. Abby, Kristin, the whole Bonham family. Paige… and I could go on and on and on. And those were just the hands that were close. Not to mention dozens – literally dozens – of total strangers that came to the door of my family's house when I was there, and I would say, who are you? And they'd say… does Ezra Matthews live here?
And there were the hands that were here, but there were also the hearts that were far away. Josh. Jordan. Nate. Leah. Jason, Jacob, everybody – from around the world.
Hundreds of names that time simply won't allow me to mention.
This is a celebration of life, and so I'm gonna ask you today to clap your hands for the kind of friendship and love that we've seen and endured today.
Two. I haven't slept well for the past few months – and some of you are probably thinking, duh. What with Ezra's cancer. But what has kept me awake at night has not been that so much as it has been awe. A-W-E, awe.
I lay awake at night in awe of the strength that Kyle and Robyn have demonstrated. At the mantle of maturity way beyond their years that they've been forced to assume, and took so gallantly and bore so greatly. You've been an example not only to me, but to thousands of people around the world. And your faith in your God has never wavered even in this deepest of possible pains. And I say to you now that no parent has ever been more proud of his children than I am of you two today, right now.
When I grow up, I want to be Kyle and Robyn Matthews.
Third. What about my grandson?
800 days.
His name, in one number.
That is the time with breath given to Ezra David Matthews.
Robert Fulghum said "I believe that imagination is stronger than knowledge. Myth is more potent than history. Dreams are more powerful than facts. Hope always triumphs over experience. Laughter is the cure for grief. And love is stronger than death."
800 days.
In 60 years, I have seen many people come and go in my life, some permanently. I tell you now that there has never been a loss that has been felt so greatly.
In life there are lights, there are shadows, and there are darknesses. Ezra's light – Ezra's light was a beacon that called to every face he passed. Like Will Rogers, he'd never met a stranger. Even people who didn't like kids would stop and talk to Ezra.
800 days.
Now, just the tiniest of memories loom large. In my bedroom there's a guitar stand, and every time that Ezra would walk in there he would go over there and he would pluck those strings. Then he would dance a little jig and turn in circles until the echoes died away. He'd go pluck 'em again; he'd do that over and over – sometimes for a half hour at a time, never stopping. Just laughing and dancing.
His dad taught him to ROAR when his mom would hold a little dinosaur up in front of him.
It was the kind of spirit that was displayed in those small things that he carried into his life that touched, touched literally hundreds of thousands of people.
And he did it in 800 days.
You know, I never had a chance to teach him to shoot a free throw. Never had a chance to teach him to throw a curve ball. Never taught him to read the grain on a 14 foot putt, but I can't do that anyway, so…
But he taught me. He taught me to love again, he taught me to live again, he taught me to focus on the amazing little things in life. Like a stick whipping into a pile of leaves or an ant in the crack of a sidewalk. Or watermelon. Vanilla ice cream. He taught me to laugh again, get back in touch with the humanity that I had begun to miss in my life.
Shortly outside you're gonna run into my family again. You're gonna want to talk to us about somber things – but don't. This is a celebration of life. He laughed his whole life.
So don't be afraid to laugh with us even today when you're shaking my hand or my wife's. Or you're hugging Robyn, or maybe you're giving a chest bump to Kyle.
Don't be afraid to pass along a laugh – because laughter is the cure for grief.
Today when I think of Ezra I smile. And now even with laughing memories I well up inside with tears, even when I smile. I find myself lying in bed at night with tears in my eyes. I find myself staring at a computer through a veil of tears.
I was a captain of Marines. I was once a leader of warriors. And I tell you now Ezra was a warrior, he was God's warrior. He carried his message, and through the internet via his father, he carried it to literally over a hundred thousand people in 40 countries. And he did it with laughter.
He laughed through cancer. He laughed through pain. He laughed through life. He laughed through 800 days.
But Ezra will live on. As Emily Dickinson said, "unable are the loved to die, for love is immortality."
But Ezra can't speak now, so I will leave you with one more quotation. Speaking what Ezra can no longer speak, but saying what he demonstrated for 800 days.
Courage doesn't always roar.
Sometimes courage is the quiet voice at the end of the day saying "I will try again tomorrow."
So from November 8th, for the rest of my life, I will simply say…
801…
802…
800days
,
Because of Ezra
,
Video
|
1 Comment
← Older posts
|||